Setter-Show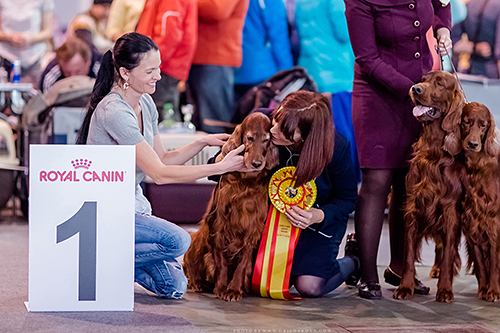 11 March 2016
Within "Leader and Prestige" Dog Show was Setter-Show, dogs were shown under the wonderful breed-spesialist Diane Stewart-Ritchie (Gwendariff), got appreciation and a very nice critique. This weekend my dogs have had their own little Crufts.
Businka became the Best Veteran, Best of Breed, BIS Veteran and BIS1!
Kuzma was the Best Male!
Soldi was the Best Female!
The other results of our dogs at Setter-show:
Jetsetter Riverdance (River) - exl., CW Open class
Jetsetter Ragga Jungle (Belka) - exl., CW Open class
Our daughter Jetsetter Rumba De Cuba (Elsa) - exl., CW Winner Class, 2nd Best Female
Kuzma/Soldi - Best Brace of Setter Show
Jetsetter - Best Kennel of Setter Show
Businka - Best Progeny Group
Many thanks to Evgeniya Novikova и Nina Lazareva for help and handling my dogs!
BIG THANKS Kate Masheenistoff for SUPER photos!!!